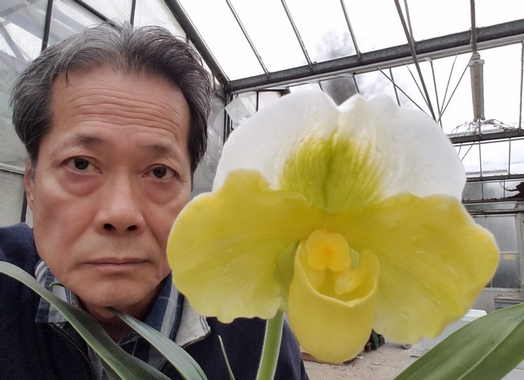 This month's speaker will be Sam Tsui who will be with us from Illinois on March 11 at 7:00PM PST to talk about "Multifloral Paphiopedilums". Sam was born and raised in Hong Kong, later attending Illinois State University where he graduated  in computer science and accounting. He retired from a position in IT in 2008 and is now concentrating full time on his orchid growing business, he founded in 1995.  https://orchidinnusa.com
Although he started growing his orchids in his basement he now has commercial greenhouses and currently makes over 300 crosses and produces up to 5,000 flasks annually.
Hybridizing is Sam's passion. He emphasizes Paphiopedilum species, Brachypetalum, Parvisepalum and multifloral hybrids.  Sam travels and judges widely (in better times) and has received over 300 awards for his orchids including many from the AOS, European Orchid Congress, The Cymbidium Society of America and the Dresden International Orchid Show where he received the Grand Champion Award.