The June DVOS monthly meeting will once again be held in a "virtual" (Zoom) format and will feature Harvey Brenneise of Oak Harbor, WA, who will be speaking on the semi-hydroponic method of growing orchids. This technique differs from full hydroponic culture because the water does not circulate; instead, it stays as a reservoir at the bottom of a vessel with a rock layer above it that draws the water up to the root zone.  Harvey will discuss media, pots and reservoirs, watering and fertilizing, and other tips for using this technique of growing orchids without an organic potting medium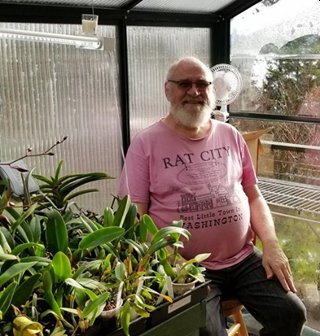 A California native, Harvey has grown orchids for most of his life, beginning at the age of 10 with a wonderful clone of Cattleya trianae given to him by an experienced local "orchid lady." To encourage his son's interest, his dad then traded a playhouse for a small greenhouse for Harvey to use as a boy while growing up in Mountain View.
Harvey is a retired professional librarian, and has worked in various academic and public libraries, including Rancho Santa Ana Botanic Garden and the Seattle Public Library. Most recently he was Associate Dean for Research Services at the University of Southern Mississippi.
Harvey has grown a wide variety of orchids under many different conditions – in greenhouses, outside, under various types of lights, and on windowsills in Michigan, Mississippi, Nebraska, California, and Washington state. His plants have received 6 Awards of Merit (AMs) and 2 Highly Commended Certificates (HCCs, mostly for slipper orchids).  He is a past chair of the American Orchid Society library committee and co-authored an Orchids magazine article with Rob Halgren on "growing orchids in mud". Harvey has been a member of numerous orchid societies, including the AOS, the Mid-America Orchid Congress, the Michiana, Dunes-Kalamazoo, Greater Lansing, Riverside-San Bernardino, Gulf Coast, Northwest, and Mt. Baker orchid societies.
DVOS meetings are open to everyone.  DVOS members are automatically sent the Zoom login link via e-mail.  Non-members of DVOS who wish to attend should RSVP to: dvosshowandtell.@gmail.com before 6/8/22 and you will be sent the login information for the meeting. DVOS members who "attend" the meeting and who have paid their 2022 dues are automatically entered into the monthly drawing for one of two $50 gift certificates, good towards a purchase of an orchid or supplies from a recognized orchid vendor