Note that the February meeting will start at 6:30 pm PST  –  30 min earlier than usual !
DVOS monthly meetings will continue to be held in a "virtual" (Zoom) format for at least the next few months.   Fortunately, that gives us access to excellent speakers from around the world who we would otherwise have difficulty bringing to one of our monthly meetings.  Our February 2022 meeting will continue to take advantage of that freedom and our featured speaker will be Dr. Melissa McCormick who will speak on the fascinating relationships between orchids and fungi.
The vast majority of all land plants form intimate associations between their roots and soil fungi.  These root-fungus associations, called mycorrhizae, typically enable a mutualistic symbiotic relationship in which both partners benefit;   the plants receive nutrients and water from the fungi, and the fungi receive sugars and other photosynthates from the plants.  Some plants, however, are "selfish", taking advantage of the fungi and draining all their resources, giving nothing in return. Prominent among such plants are the orchids. In her talk to DVOS, Dr. McCormick will explain how the fungi help the orchids and why orchid conservation is leading to new mycological research.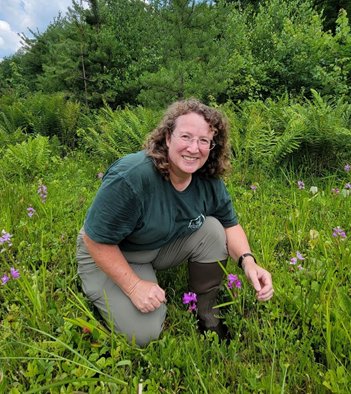 Dr. McCormick is an Ecologist at the Smithsonian Environmental Research Center, where she has studied orchids and other plants since arriving there as a Postdoctoral Fellow in 1999. She received a B.S. in Biology from Trinity University in San Antonio, TX and a Ph.D. in Ecology, Evolutionary Biology and Behavior from Michigan State University. She uses a combination of field- and DNA-based techniques to study plant-fungus interactions, plant conservation, general plant ecology, and plant invasions. Her main research focus is on orchid-fungi mycorrhizal associations and how they affect orchid rarity and distribution.  She is one of the founding members of the North American Orchid Conservation Center (NAOCC), a pioneering initiative to link botanic gardens, land managers, and researchers to conserve all the native orchids of North America. She has published over 25 papers about native orchids and their mycorrhizal fungi, and how they are affected by land use history, drought, and non-native earthworms.
To attend Dr. McCormick's presentation, please follow the steps below. If you would like to invite a friend, send me the name and email address and your guest will receive the sign-in information when you do.
RSVP to dvosshowandtell@gmail.com no later than February 4th.
After you RSVP, you will receive the sign-in data and other final information before the meeting. Be sure to look for an email message from the e-mail address above. You do not need to respond to that message.