Carol Klonowski as been growing orchids since the 1980s when a friend in Berkeley, California gave her a cattleya orchid and it bloomed out with three big, dark lavender flowers and an intoxicating fragrance. She built an entire greenhouse in her backyard to accommodate the precious plant, which only led her to buy more orchids. Then another friend gave her a gift membership to the Orchid Society of California, and it's been a serious hobby eve since.
Carol has served as director, vice president, and president of the Orchid Society of California for most of the past two decades and is currently a fully accredited judge with the American Orchid Society in the California Sierra Nevada Judging Center.
The History of Unifoliate Cattleyas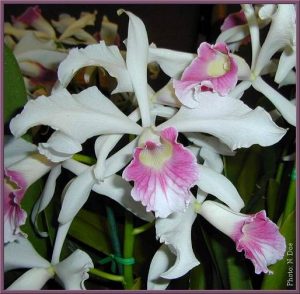 Carol Klonowski will explore the discovery, cultivation, and popularization of labiata-type cattleyas. She'll start with their discovery in the jungles of Central and South America, follow them through the floral industry trade, and share how their popularity has re-emerged in recent years. Aside from Phalaenopsis, no other orchid comes to mind as quickly when someone mentions the phrase orchid flower. The culture information from the talk can easily apply to most other orchid genera.
---
Dinner with the Speaker at 5:30 p.m. is at Aung MayLika 1050 Contra Costa Blvd, Concord, CA 94423
Everyone is welcome to attend and meet our speaker – just let Eileen Jackson know before 2pm if you will be coming so we can get the table set up.   eileen.jackson@att.com
---
The plant table will be provided by the speaker.