"When I was just a little boy, 7 or 8 years old, my father and I were suddenly hooked on orchids. At a home
and garden show we saw a Catasetum pileatum and were shocked by its beauty. When we asked people where to buy that plant, we were pointed to the orchid booth of one of the most important and respected orchid growers in Brazil's orchid history – Mr. Heitor Gloeden. Soon after that initial contact, he took us under his wing and taught us about orchids.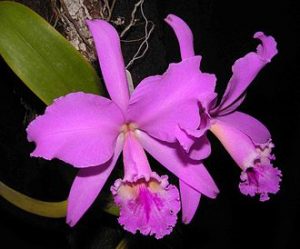 As a native of São Paulo, I quickly learned about many orchid species. Those that I was first in touch with are still my favorites: Cattleya, Laelia, Sophronitis, Oncidium, Paphiopedilum and Vanda. I love all orchids, but these are the ones that have continued to populate my daydreams, even when I was working on the options trading floor at the Pacific Stock Exchange!
My father and I learned about orchids together, so orchid growing became a partnership with him. Today my dad is 88 years old, and we still spend hours discussing possible crossings, preferred cultivars and plants that we still "need" to add to our respective collections. Still living in Brazil, he cultivates beautiful orchids there, while I pursue my hobby here in Northern California. I love it here. I immigrated in 1989 to Ohio. After college, I moved to California where I put down roots, made friends, and began cultivating orchids."
---
The Plant Table will be supplied by Sergio Garcia
Dinner with the Speaker at 5:30 p.m. is at Aung MayLika 1050 Contra Costa Blvd, Concord, CA 94423
Everyone is welcome to attend and meet our speaker – email Eileen Jackson at eileen.jackson@att.com to reserve a seat.