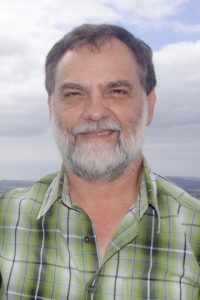 "I was first stuck by the orchid bug in my early teens, when I discovered a commercial Phalaenopsis grower near where I grew up in Phoenix Arizona.
After moving to the San Francisco Bay area in 1976, I quickly became acquainted with Rod McClellan's orchids in South San Francisco and it wasn't long until my kitchen window was brimming with orchids.
A move to Santa Rosa (Sonoma County) in 1989, afforded an opportunity to house my rapidly growing orchid collection in a backyard greenhouse. In 1999, my wife and I completed construction of a new greenhouse (and home) in Petaluma.
Austin Creek Orchids was established in 2001. I semi-retired from the high tech industry in 2014, leaving more time for grandchildren… and orchids!
In the past few years, I have focused largely on Paphiopedilums, although I grow many other genera including Angraecum, Bulbophyllum, Cattleya, Dendrobium, and various vandaceous species and hybrids.
My wife and I have done a fair amount of international travel over the years, but with the exception of our 2015 trip to southwestern Australia, it was never about orchids."